Clustaar x Zapier
Effortlessly move information with the Zapier integration
Formulate collected data through your chatbot
Do more with user data by connecting the collected information to the application of your choice with Zapier. Create spreadsheets, trigger alerts, plan meetings and more directly through your bot. 
Zapier offers 1,000+ applications to connect with. Do virtually anything with the gathered data and learn more about your users.

 
How Zapier Works for You
When your bot asks users questions such as name, email, location etc, this information is stored and to an application via Zapier. Consistently collect and compile this data in an easy to use way. For example, every time a users name and email are entered into the chat, connect this information to a spreadsheet to create an ongoing list of leads.
Configuration
Configuration is easy. Once you've signed up for the platform the Zapier action is immediately accessible to you in the action panel. Create an account with Zapier to have the ability to add the Zapier option to any step or story you create. To use it, just click on "Integrations" then drag and drop the Zapier option inside the step panel.
Step 1: Create a profile on Zapier for your chatbot.
Step 2: Create and name your Zap and choose the 'Catch Hook' option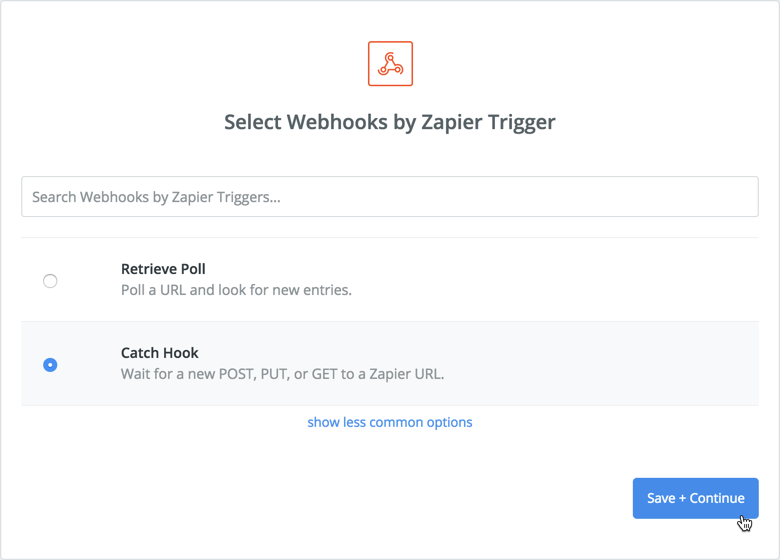 Step 3: In the Clustaar app open the Zapier configuration and indicate which variables you wish to be sent (do not use spaces when entering the variables, separate data with underscores)
Step 4: Copy the URL provided by Zapier and enter it into the Clustaar app.
Step 5: Send a sample to ensure that that the integration was set up correctly, then confirm
Step 6: Return to Zapier and choose an application for the data to be sent to
Step 7: Configure the parameters,  then send a test to ensure efficacy
Step 8: Turn your Zap on and you are good to go
And that's it 
 Your bot is now ready to send data, to be neatly stored in the desired application. See our help center for a detailed integration guide.
Clustaar Zapier Integration FAQ
No. The Zapier integration is included in the price of the platform.
Using this integration will not affect your pricing with Zapier.
Ready to Build a Chatbot for
Your Customer Service?
No Credit Card, No Obligations