Clustaar Zendesk Chatbot Integration
Effortlessly create a ticket for Zendesk through your chatbot
Create a ticket on Zendesk through your chatbot
Reduce query resolution time and provide a seamless 24/7 customer experience for your visitors and users by integrating with Zendesk. Link your chatbot to your existing Zendesk CRM so you don't have to change a thing.
Abilities: When the bot cannot resolve the user's query it simultaneously creates a ticket in Zendesk from the information collected throughout the conversation.  
Allow users to create tickets to be directly routed to your team

Users do not need to bother with drafting an email or making a call

Link Zendesk tickets to live chat to address queries instantly

The human team have all the data and tools at their disposal to resolve queries faster than ever

Learn more about stress areas from users with data analysis
Software support: In a context where users are logged into your application or software, you can provide advanced support, ask qualifying questions to know where to direct the user, and create support tickets.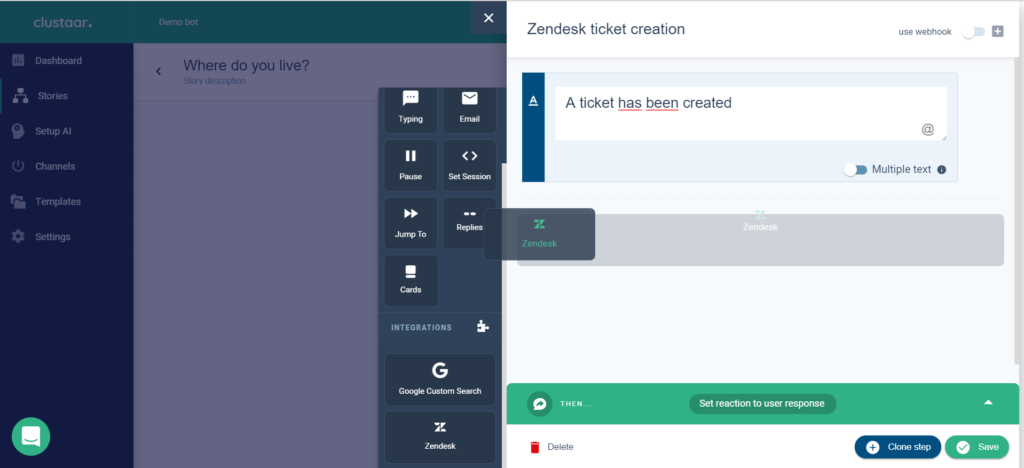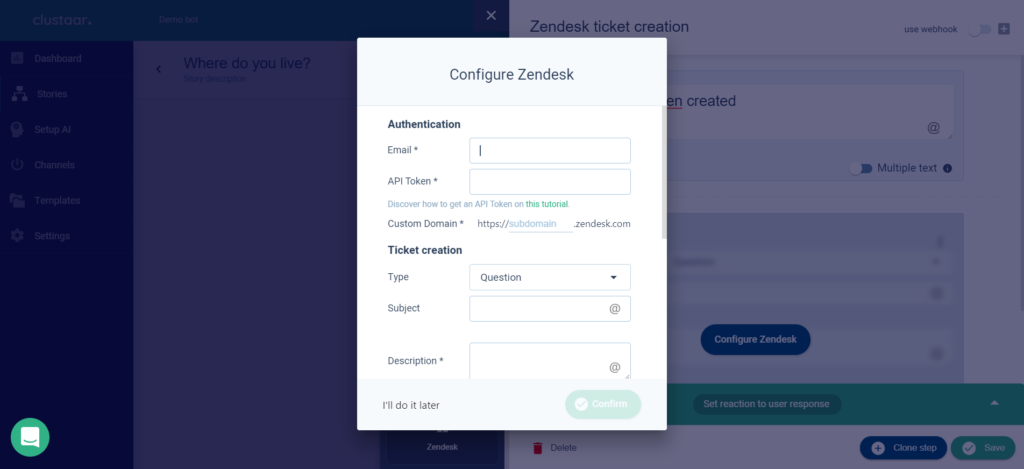 Chatbot Capabilities on Your Website
The Clustaar platform allows you to connect your chatbot to any website. Your bot provides a seamless 24/7 customer experience for your visitors and users.
Configuration
Configuration is easy. Once you've signed up for the platform the Zendesk action is immediately accessible to you in the action panel. You have the ability to add the Zendesk option to any step or story you create. To use it, just click on "Integrations" then drag and drop the Zendesk option inside the step panel.
Support: The chatbot automatically interacts with visitors on your website. Your bot's abilities include:
Scheduling a demo or a meeting

Catching visitors' emails

Answering questions 24/7

Using advanced qualification scenarios to give visitors the right information
Advanced FAQ: The chatbot answers recurring questions on your website. You can use it to replace or complement existing FAQ and contact pages.
Clustaar Zendesk Integration FAQ
Ready to Build a Chatbot for
Your Customer Service?
No Credit Card, No Obligations