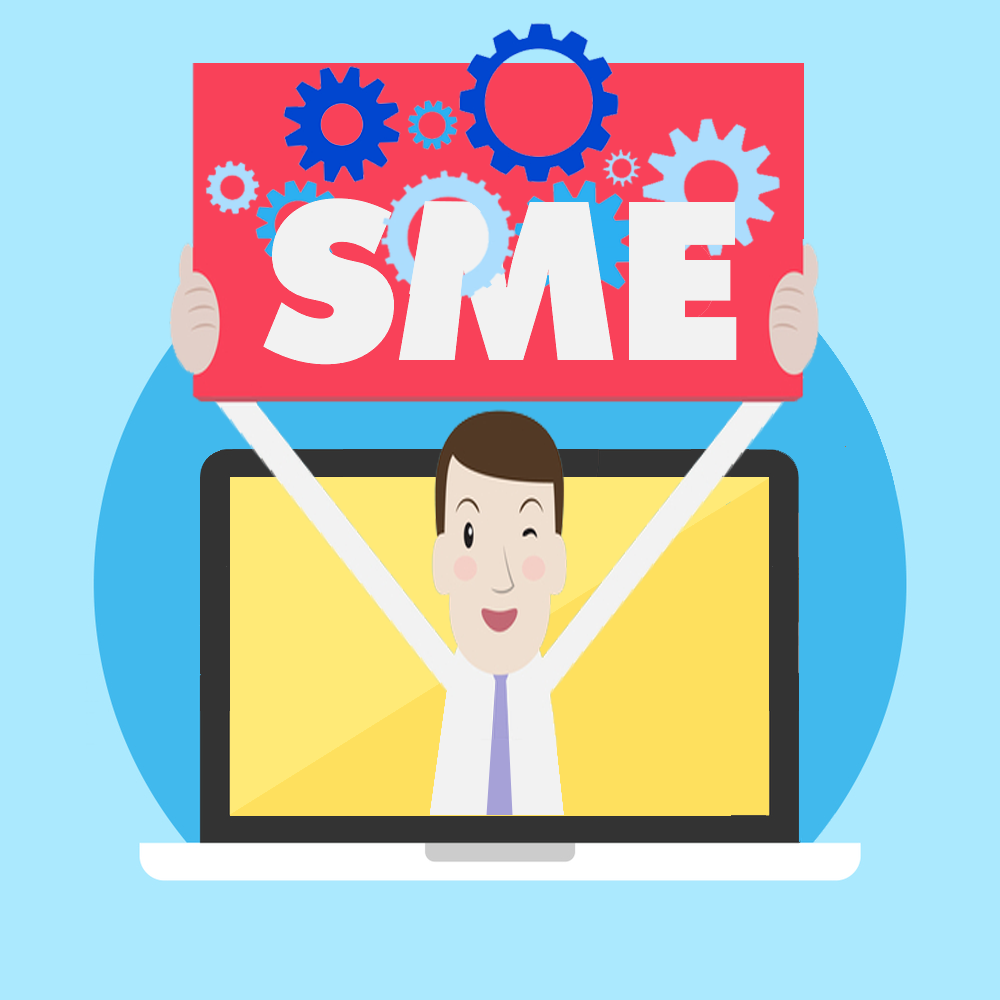 pWhy Small and Medium SaaS Companies Should Automate Their User Support
The tech community has seen Software as a Service (SaaS) market grow from a niche to a full-fledged market segment. This subset of the Cloud Services market experiences a 20% yearly growth powered by category-killers like Salesforce. The overall market size is expected to double, reaching $75 billion in 2020. The SaaS segment's growth is primarily driven by small and medium-size companies attracted to the user-friendly interface, affordability, easy setup & training costs associated with SaaS technology.
However dynamic the SaaS segment is, it is over saturated and increasingly competitive, with numerous sub-segments dominated by large incumbents (Salesforce, Dropbox). The environment is harsh for smaller SaaS vendors, and far more difficult to get their message across and to recruit new customers. One key element to growth survival is to get a product-market fit position, and then, create an amazing customer experience.
Support is the key difference for small and medium SaaS companies
Great customer support is not easy. However, for small & medium sized SaaS companies, it can and should be a key aspect of their strategy to stay competitive and to grow as a business. Small and medium companies often have limited resources with team members wearing several hats. Fortifying any sized support teams with automation can set businesses apart from their SaaS competitors. When customers get the answers they need quickly it builds loyalty which converts into increased sales. Importantly, this support will free up time allowing companies to reallocate their resources and concentrate on growing as a business.
Use Cases
1. Customer Support
The recent advancements in AI technology has created a gap between SaaS businesses and engaging with customers through messaging. Underestimating the powerful medium of messaging is detrimental to customer satisfaction. Businesses can strengthen their customer support operations through chatbot automation. Chatbots have proved to be the digital solution being adopted by SaaS companies worldwide to automate their customer support functions.
Support automation helps small and medium-sized businesses grow by increasing efficiency in a variety of ways. It is often that when companies are growing quickly they opt out of hiring additional customer support team members to sustain new growth. Formerly, nearly all aspects of your business could be scaled expect for customer support, until now. Scale your support operation with a bot that will provide instant and consistent responses across the board, at all hours. Support automation works with existing support teams, however large or small. Allow your team to quickly tackle challenging requests and leave the FAQ to automation. When scenarios cannot be solved via automation the bots will then pass the situation to a human.
Due to high demand, it is not uncommon for customers to wait for an extended period of time to speak with an agent, only to be transferred several times before solving the issue. This creates a poor experience for customers which can negatively impact your brand.
Bots are implemented to tackle the repetitive and routine tasks so your support team doesn't have to. Bots work in conjunction with humans to maximize customer interaction, satisfaction and to build brand trust. Thus the human agent's time attending to recurring queries is reduced, which then allows your team to focus on the more complex inquiries. Chatbots can answer the FAQ and filter out customers with irrelevant queries, identify positive leads, then pass them on to the appropriate team member.
Merging your human team with a bot will maximize customer engagement and ensure that all the complicated inquiries are passed on to the appropriate agent. For example, after a few initial question and answer sessions, chatbots will pass a case on to humans for additional assistance equipped with a full description of the customer's request.

Your customers may be speaking different languages. However, irrespective of the language used by your customer, Chatbots can be multilingual. Chatbots can be created in multiple languages and can be assigned a default language. They can also use language detection to identify the language spoken by the customer and switch languages accordingly. Thus allowing you to break through language barriers resolve queries without losing time to translate.
Customers in this day and age are looking to have their questions answered accurately and instantly. Provide asynchronous answers across the board by training your bots with the precise verbiage you would like to use.
Set up rules to alert the right people on your team, whenever there is urgent action on your chatbot that requires an immediate response. For example, you can alert a manager of a bad satisfaction rating, so they can follow up immediately.
Add a bot to your existing toolkit to reach users around the world regardless of their time zone with your bot working 24/7, save the hours and manpower while maintaining the strength of your team.
Customer support is the main focus area these days for all businesses. Your customer is central to your business, and success is all about improving the customer experience and engagement in today's interconnected world. Natural Language Processing (NLP) and Artificial intelligence technologies in chatbots continue to evolve. Both help in understanding the context of your customers requests and meet their expectations.
NLP is used to make the customer's conversation understood, ask relevant questions, understand the answers and gain context. NLP attempts to derive the intent of the customer's input rather than the information itself. Thus adding a touch of humanity to the conversation.
2. Qualify Leads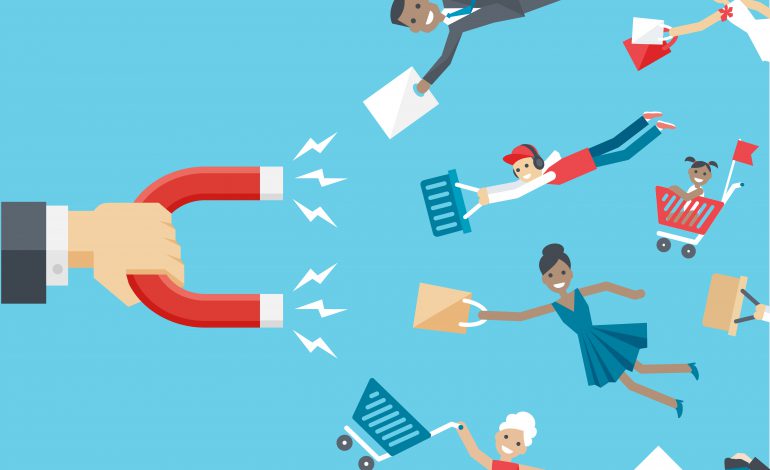 An essential facet to growing a business is to generate qualified leads. Bots seek to identify and engage with leads automatically. Allow your bot with to answer user questions, book demos, calls and open a live chat with an agent when needed. Allow your bot to give users a complete understanding of your company's offerings. Share information about new features and products, and show people how to use them inside your app to drive adoption.
This software is equipped with plug and play customer acquisition scenarios to fine-tune user interactions allotting additional time to focus on contacting prospects and to close deals quickly. Waiting as little as five minutes to respond to an inbound inquiry makes you 10x more likely to lose that lead forever.
Share information about new features and products, then show people how to use them inside your app to drive adoption.
Your customers are looking for quick answers to enable them to be informed enough to make a 'buy decision'. At times this information that may not be readily available with a customer agent depending on the query. Customer support agents have limitations, as human beings, they may not be able to quickly search and provide a quick answer to the customer's query. Chatbots are able to search vast databases and retrieve the right information in seconds. A quick and accurate answer is the key to creating a positive customer experience. 
Furthermore, Chatbot interactions with customers can help gain insights into customer behavior. With a bot, you have the ability to use logged data to help draw customer behavior patterns. You can understand your customer better, helping you to design highly customized content marketing strategies. These customer insights can help you to predict their movements and buying patterns. Once you understand your customer's preferences, you will be able to promote the right choices and improve sales.
3. Internal Support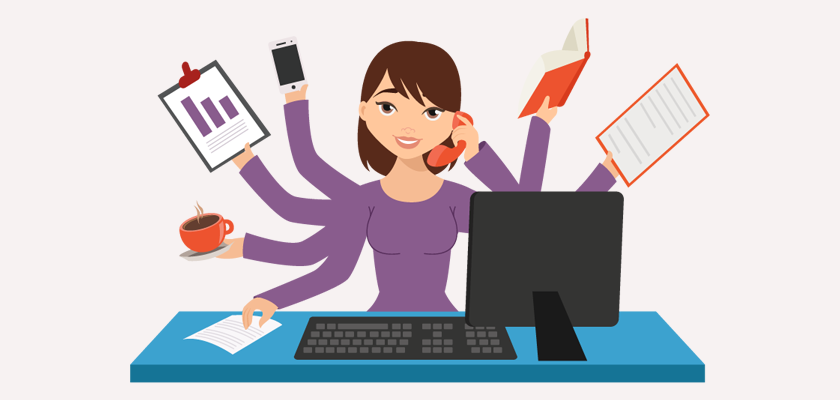 Additionally, internal bots act as a hub for company knowledge and assist employees in a virtual assistant capacity. Create a new internal experience for your business. Use a bot to facilitate employees with on-boarding, offer a concierge service, and answer questions quickly. The chatbot creates a new link between the digital and the physical world. Some uses include resetting passwords, submitting requests, acquiring information about company policy, and more.
Call out your employees with news push or polls, answer their recurring questions quickly. Offer them a positive image of their company and build on internal knowledge.
Relieve IT and support teams by combining AI and human intervention, for complex tasks and questions. Accelerate processes with functionalities like ticket creation.
In a survey of 529 IT professionals conducted last March by SpiceWorks, 40% of large businesses plan to integrate intelligent virtual assistants over the next year. Currently, 53% of the surveyed companies AI in their IT departments.
However, the complexity may vary dependent on the enterprise. A small organization may only want a simple chatbot to answer frequently asked questions and provide contact information. On the other hand, a large organization may be using an AI chatbot that understands customer intent, learns user's buying patterns and be able to predict customer's choices.
Where to automate: on the website + within the application + relieving the support team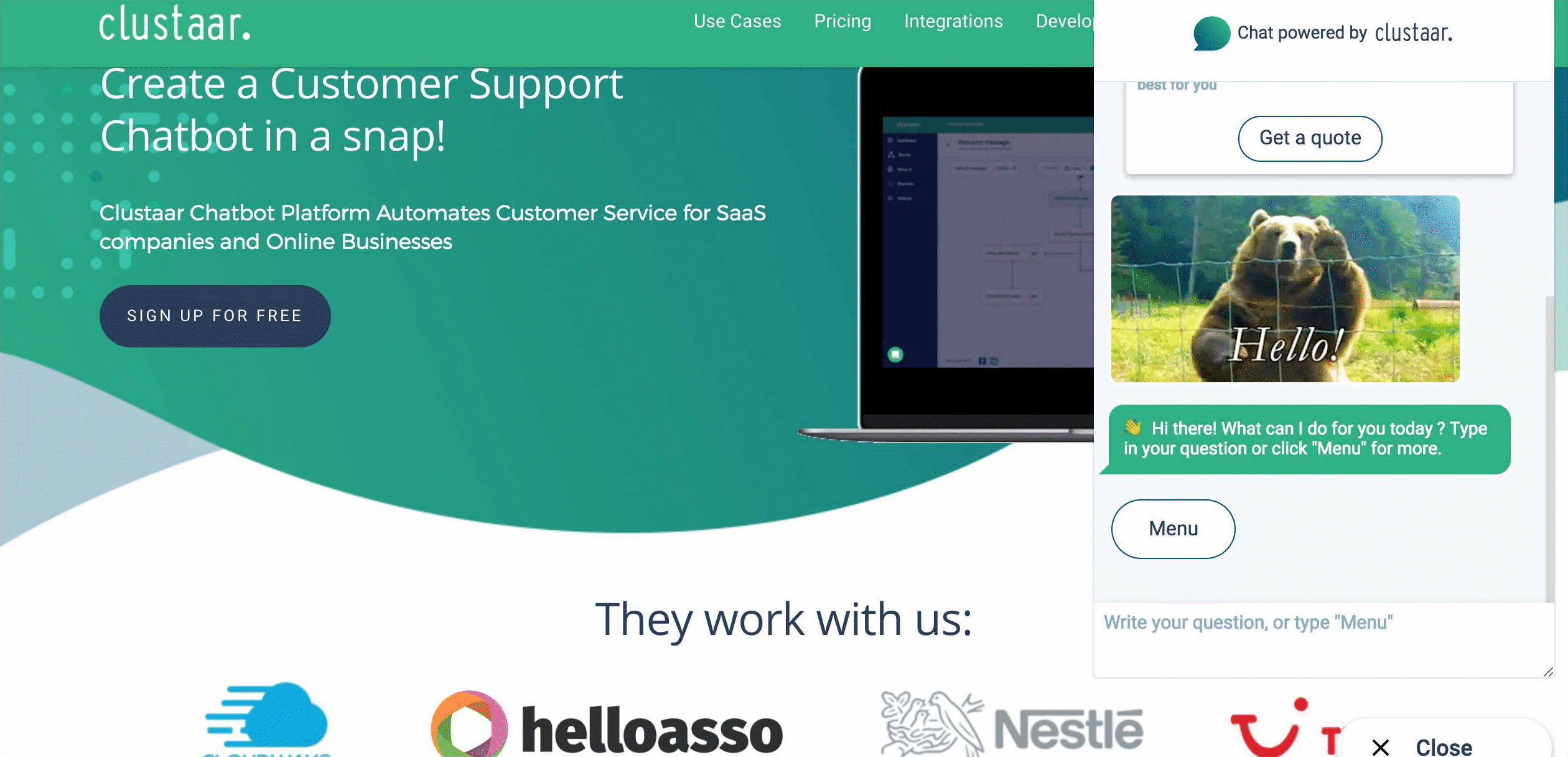 Customers have changed in the way they would like to interact with companies. Integrate a bot with your existing web page to engage with your clients whenever they need it. Engage with your clients directly on your landing page whether it be WordPress, Intercom, Webhooks and more. The bot resides in your software. Give users a live chat solution and use your bot to shield your support team and filter out irrelevant/recurring requests.
You also have the choice of integrating your bot into a messaging application such as Slack, Facebook Messenger and more.
Give your customers the option of engaging with your company by integrating with Clustaar Webchat, ZenDesk, Facebook Messenger, Google Home assistant Twilio, Slack and Skype for business is a short list of applications your bot can integrate with.
Who is it for?
The short answer, everyone. There is an endless list of use cases with support automation, so much so that any organization can benefit from support automation. Organizations seeking to increase efficiency while saving both time and money are prime benefactors.
Small and medium-sized SaaS companies, in particular, are prime candidates for support automation due to their constant quest for scale. However human-agent-based support is the one thing that can not be scaled. But when companies allow chatbots to be the first support line and shield agents from low-value recurring requests, only then can SaaS companies achieve the scale they've been looking for.
Your business has human capital costs in customer support and they increase every year with the growth of your business. However, with Chatbots, it's a one-time investment that assists in reducing staff costs, driving up your profit margins.
Software companies are the perfect candidates for customer support automation.
Small and medium businesses need support automation the most to save hours and resources. Also to focus on growing their business, which bots help to do with rapid and accurate issue resolution and generating leads.
Rising competition in a crowded SaaS marketplace has increased the cost of customer support leading to higher marketing budgets. SaaS companies are strategically using "Chatbots" to automate customer support, grow customer base and reduce costs. Unlike the past, your customers in today's world are interacting with businesses in new ways and through multiple social channels like Twitter, Facebook, Google and a host of increasing mobile apps on the cloud.
SaaS businesses need to automate their customer support operations with chatbots to capitalize on the demand of immediate and accurate service.  Positive customer experiences build loyalty which in turn boosts sales.
Check out how Clustaar can help you automate customer support and create positive customer experiences with our chatbot solutions.
Build your own chatbot