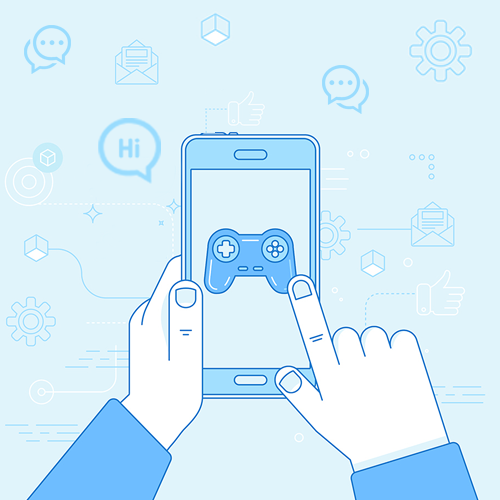 The world of gaming is vast and has seen exponential growth in recent years. From in-app mobile games, online gambling and console multi-player games, the worldwide game market is expected to grow from $137.9billion this year to $180.1 billion by 2021, according to Newzoo. Chatbots are proving to be a solid solution for in-game customer support to meet players high expectations for immediate customer service. Bots lower support costs for gaming companies while exponentially speeding up resolution time which is why companies are jumping aboard the bot ship. Gamers are inundated with the immediacy of the gaming world.
Popular support models involve gamers stepping out of the game to seek support whether it be via phone, email or chat. Another common go to for players is to seek out community forums to for answers to their queries. Both mediums can and do lead to solutions but is there a better way? Yes. Gaming companies have begun to find ways to place support within the games themselves to make it easy for users and not to disrupt the player's immersive experience. When companies opt to have their own support in-game it provides them control over the support experience opposed to encouraging users to seek aid in forums or sifting through pages of documentation, meanwhile keeping players engaged. The longer gamers play, the more invested they become, driving spending and, ultimately, revenue.
In Game Support
Games are complex software that is constantly under development and roll out updates, new features, and fixes which can result in issues for the end user. Support automation offers a solution in that your support solution can have the same look and feel as the game.
For example, Rovio, the studio that brought Angry Birds to the world opted to offer support inside the game app. They now provide support within the game by integrating with Zendesk. Once implemented they saw an initial rise in tickets which identified a sector of players that would otherwise leave their queries unanswered and stop playing. Their support is virtually indistinguishable in the app creating a seamless experience for the user.
Adding a chatbot to support teams is a use case that has skyrocketed in popularity as the client base has continued to rise. From large businesses to start-ups automating customer support links users with the answers they seek in a matter of seconds. The gaming sector is no stranger to this use case. According to Gartner, by the year 2022, the majority of customer queries are predicted to be answered by a bot. A chatbot offers easy navigation and better customer response. Placing a bot as the first point of contact filters requests for the live support team so they can focus on higher level queries.
Players are engaged around the clock so why aren't you? Deploying a chatbot in a gaming app or website you make yourself available  24/7. A chatbot is enriched with Artificial Intelligence and Natural Language processing to better understand user requests. Chatbots work holidays and after hours so human support teams won't have to, which benefits users and cuts costs by saving labor hours.
FAQ
While in-game bot support is a great solution for immediate user support, a FAQ chatbot on a gaming companies page is a close second. FAQ is a great source of information for existing and potential players but they are often out of date and difficult to find or navigate. Our client Les Frances des Jeux is the largest online gaming/gambling company in France. They have seen a €115 billion in annual revenue with over 26 million players. This past year we helped them to develop a chatbot to keep up with their growth.  Prior to the bot, FDJ found that their FAQ was difficult for customers to navigate causing the number of calls and emails to rise.
Once the chatbot was implemented it answered recurring queries, and FAQ's while dividing the number of requests for their human team by 3. For more facts and figures on FDJ's bots success, take a look at the case study.

Both in-game support and webchat are guaranteed to reduce support wait time for players and reduce overall tickets for your human support team. With bots,  you may also prompt players with solutions before they need it.
Gather Insights
Chatbots record all conversations and collects the data that players have provided. Learn from players and use this data to your advantage to detect common questions, pain areas and to truly understand what users need and ultimately improve or alter your game to meet player demand. Improving your product will increase player engagement and keep them engaged.
The Clustaar platform allows you to download data voluntarily submitted by users into a CSV file, such as name, city, referrers and more. Similarly, with Clustaar's Zapier Integration, companies may also send user inputted data to a form or spreadsheet for an ongoing list of live leads.
The Clustaar Platform offers an intelligent chatbot solution to ease the pain of overwhelmed human support teams and link users with the answers instantly. Clustaar offers a variety of integrations meaning your bot can be implemented virtually anywhere. Create positive interactions with users by providing consistent and accurate customer service with a bot. For more information on chatbots for customer support see our article.
Online gaming sites and casinos are popular locations for both desktop and app users which makes them prime candidates for support automation with a chatbot. Join the likes of Les Frances Des Jeux and SkyBet and get started on your chatbot project today. Book a demo with one of our experts to discuss your future bot and take a tour of the platform.