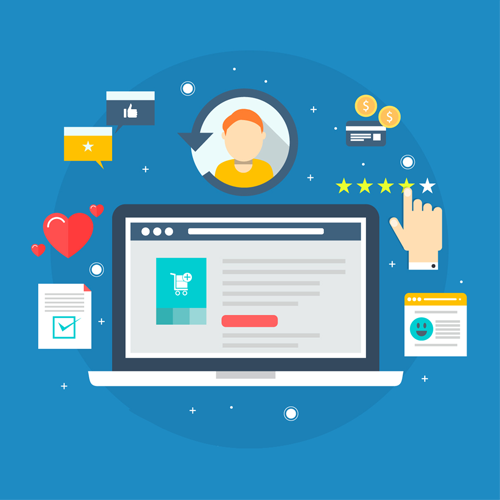 Zapier Integration
Use the data collected by your bot to your advantage with the Zapier integration. Zapier offers 1,000+ applications to connect to your bot and organize the collected data. Set up your bot so that user data is connected to a spreadsheet, trigger alerts, plan meetings and more.
For example, every time your bot collects a name or email automatically send the information to a spreadsheet to create an ongoing list of live leads. Learn more about this integration on our Zapier page.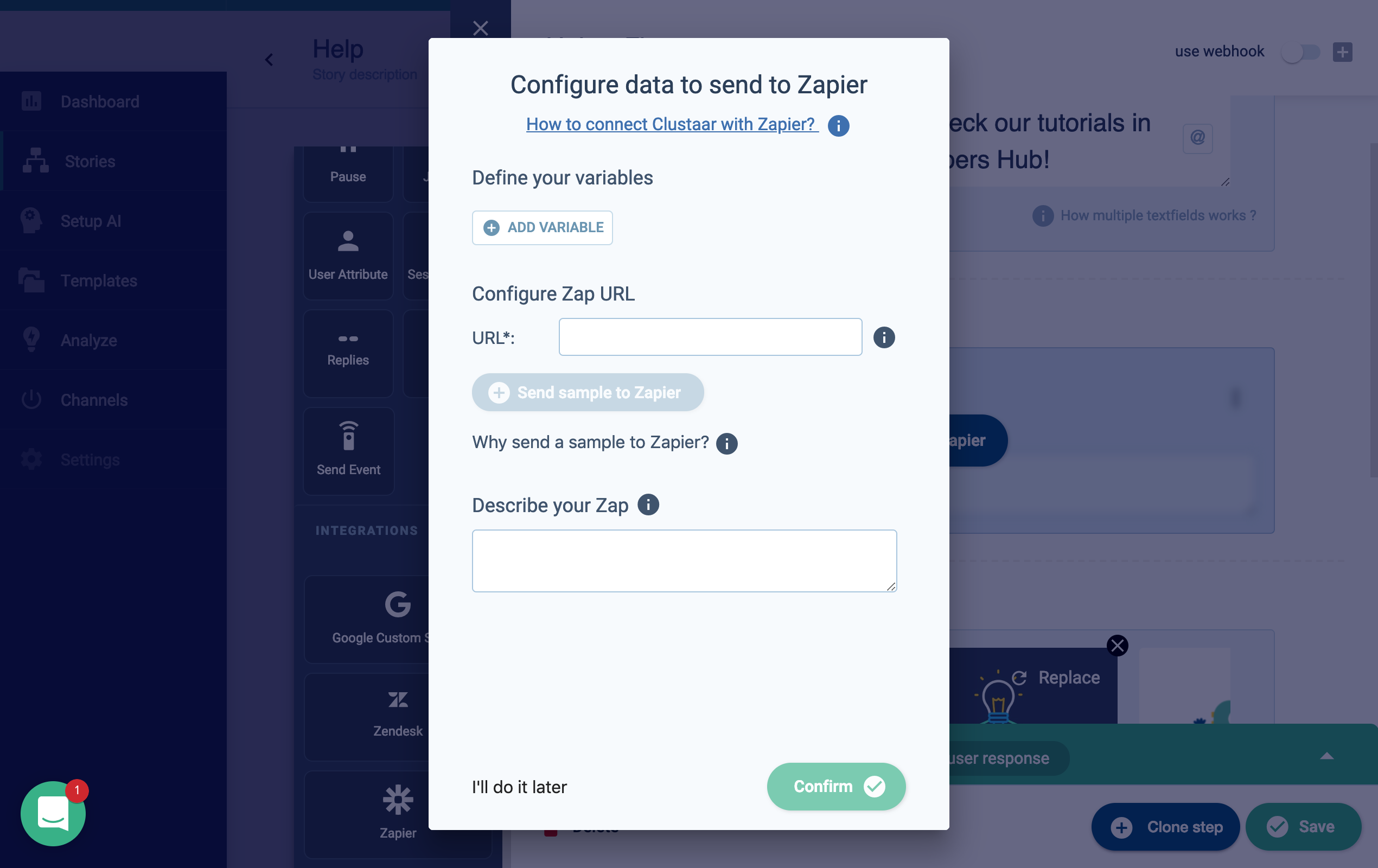 Intent Statistics

We are proud to announce the Intent Statistics feature is live on the platform. Analyze the success rate of existing intents over time. This feature will help fine-tune your intents and create a better bot.
This feature can be found in the 'Analyze' next to the user queries tab. On the Intent Statistics page, a list of all existing intents is displayed on the left organized from most popular to least. Select up to 5 intents to be displayed on the 'Matched Evolution' graph on the left.
This graph displays the match rate percentage of each selected intent which can be compared to one another. The period of time represented on the graph can be changed to reflect the desired dates.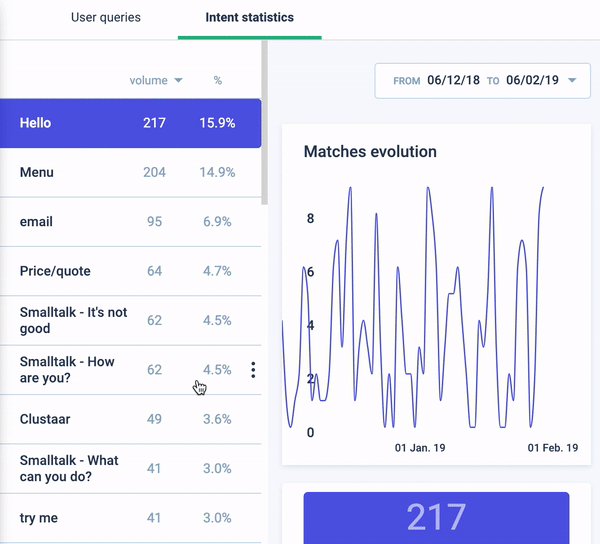 Below the 'Matches Evolution' is a bar graph representation of the selected intents for a different perspective as to how each intent is performing. Click on the bar of interest to view and directly edit your intent.
In the Setup AI tab, a graph of an intents individual statistics can also be accessed. The amount and percentage of matches are displayed on this graph, reflecting the indicated time period, which can be changed at will.
Utilizing this data will help to enrich intents by altering those that need are not performing and mapping its progress over time.  Modifying intents dependent on this data will maximize the efficacy of your chatbot, which in turn optimizes the user experience. Happy Matching!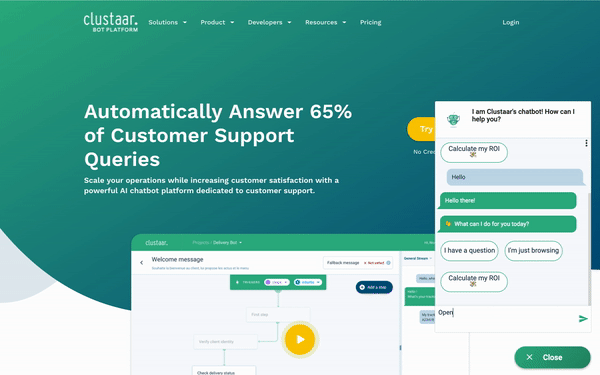 Send Event
Do more with your bot with the 'Send Event' feature! This enables the chatbot to send events to a website so it can react to the conversation. For example, when users indicate they would like to speak to a representative via Intercom, the bot will then confirm with the user before opening a new window for Intercom.  Or use the 'Send Event' feature to share triggered stories to Google Analytics and monitor user behavior. This feature is found in the drag and drop menu of each story builder.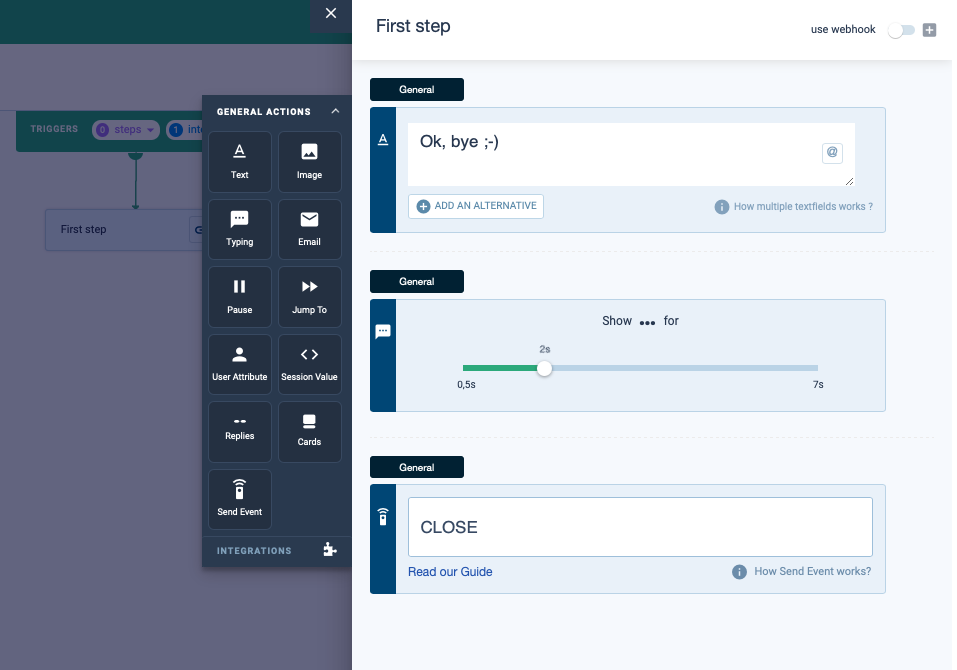 Here is the code that shows how Clustaar Webchat is switching to Intercom example is done: