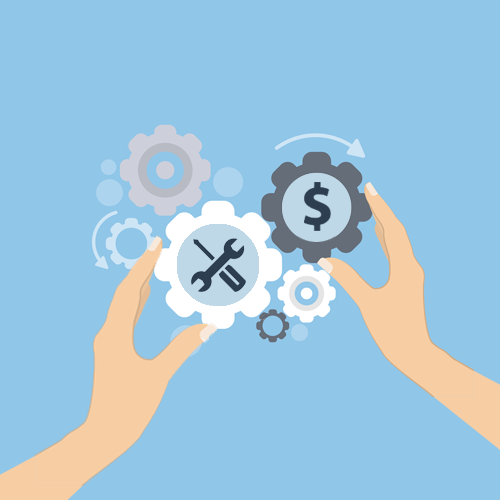 Convert Users to Buyers With Customer Support
From the bottom line perspective, customer support is usually seen as a cost, rather than a way to drive revenue. It is an essential function, but just below the commercial and customer success teams. With this mindset, you're probably missing an opportunity to convert more users into buyers.
All in one: The Customer Team
When it comes to customer success, support is seen as a cost that should be controlled and at times, reduced. But as most SaaS businesses provide a free trial period, things change. Although the user is not yet a customer, they're using, trying and testing your product and the quality of your support.
With the use then buy model, the conversion journey and customer support must be seen in the same business cycle. Here's why:
The frontier between a sales lead and a customer gets thinner
The prospective client is buying an experience, not just a product
Competition in SaaS happens at the Support level: the better support the more customer retention and conversion
Which is why, at Clustaar, we have an all-in-one team: the Customer Team.
Sales vs. Customer Success vs. Customer Support
Often times commercial representatives deal with users' technical issues without the tech knowledge. Similarly, the customer support team often deals with more commercial questions without understanding the users' needs. We suggest that the two services should work together and aim for user satisfaction.
Before buying, the customer should have comprehensive knowledge about the product. Therefore, the commercial representatives should be a technical expert, who is able to explain, support and demonstrate the product. By making these teams work together, your team will be more efficient and successful in customer satisfaction.
Provide Feedback to the product team
For your SaaS business to be the best in the market, the software must be easy to use, easy to learn and technically efficient. To improve your product, users should be able to provide feedback to the product team at each stage:
Before the sale: If your SaaS product seems inefficient or complex, it may not sell. You must be attentive to users' expectations and issues to develop the most suitable products for your audience. The commercial team should consistently communicate with the product team about the real user experience.
After the sale: Similarly, the customer success and support teams should communicate customers' feedback about bugs, suggestions, developments and improvements.
Team organization
Throughout each stage your team should do the following:
Create efficient scheduling. With the right number of people in the right place, at the right time this can greatly benefit your organization. By exploring your data, you will be able to foresee conversation volume within a period of time.
Build your tool with the "real-time customers" in mind. It has to be a simple tool which allows you to move easily between customers and interact with them in a conversational and personal way.
Rethink your workflow with an easy switch between teams and inboxes. A single person should be dedicated to one conversation at a time. This avoids wasting time on re-reading notes and older conversations for context.
Communicate and promote feedback to teammates so everyone can handle change and evolve. This will make for a smoother team environment.
Unite on a single, main goal. The sales and customer success teams should strive to increase monthly recurring revenue. This involves gaining more satisfied customers and reducing churn rate.
At Clustaar, for example, we're one team with different skills that meets and communicates with customers. Sales, customer support and customer success are several words for one reality: the user experience.
Real-time support and its benefits
Now let's focus on customers' experiences and expectations. The only way to truly satisfy your customers is to give them quick and complete answers. This is done by setting up real-time customer support.
Real-time support will give users an answer between two and five minutes. This quick, qualified and real-time customer support will increase the conversion rate. As an average, for Saas companies, it is estimated that real-time support drives a 15 percent incremental growth in new business revenue.
Where do you start?
Just as you can count on real-time support to increase customer support revenue, you can depend on it to be an expensive investment. This will involve rethinking and rebuilding your workflow. But don't worry, it's worth it.
Just start small, and notice how many conversations your team can handle at the same time using a random inbox tool. This will give you a concrete basis to imagine where it can go.
Chatbot could be your next real-time support tool
While you can't always dedicate a team to live chat, you can develop a chatbot to be your real-time customer support. Acting as qualified, quick and personal help, chatbots are now a part of many large companies' websites and apps.
You might be thinking, "there's nothing like a human conversation, though" and you're right. But sometimes automation has several benefits that human skills don't have. Check out our article on the advantages of automated ticketing.
Chatbots talk with end-users 24/7 without human supervision and resolve most recurring questions.
To be more specific about a real-time response, AI chatbots gather issues and questions, then coherently respond with thoughtful answers.
In practice, users' questions are the same through website inboxes or mobile apps. Customers ask similar questions but through different channels. To give your customers quality, personal answers through an easy-to-use platform, it is necessary to have coherent answers that follow the same format.
Here at Clustaar, we do this for you! You can develop your chatbot on our conversational platform, then gather all recurring questions and answers to ensure the same quality level responses for everyone, at any time and through any device. Your chatbot will give quick, efficient and personal responses, which will increase customer satisfaction.
Satisfied users become loyal customers, that will continue to buy your product.  Your customer support service plays a crucial part in meeting customers' expectations and needs.