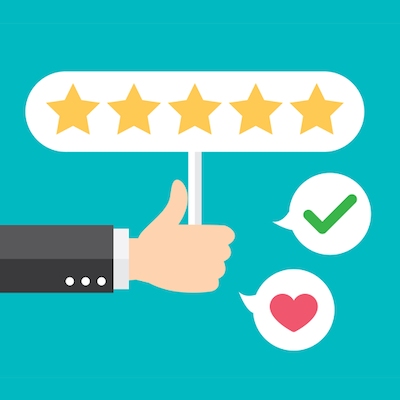 Poor customer service is costing businesses more than $75 billion a year leading to customers switching to competitors. Chatbot automation can guarantee that every customer is satisfied with their service.
Whether you are a Business 2 Business (B2B) or a Business to Consumer (B2C) organization, there is always an important element of a customer involved. Frankly, we know, that it is customers who bring in the revenue for all businesses. Good products and services will attract more customers and vice versa. You have to ensure that every customer that encounters your business is a satisfied customer.
NewVoiceMedia's 2018 "Serial Switchers" report reveals that poor customer service is costing businesses more than $75 billion a year. That's up $13 billion since its last report in 2016[1].
The main reasons for customers are cutting ties with businesses are as follows:
Customers do not feel appreciated.
Customers are not able to speak to a person who can provide them with the answers they are looking for
Customers experience rude and unhelpful employees.
Customers are being passed around to multiple representatives.
Customers are put on hold for unreasonable lengths of time.
Companies must measure customer satisfaction as it is a key performance indicator. Making sure that customer service agents are putting in their best to deliver the utmost best service to your customers.
"A customer talking about their experience with you is worth ten times that which you write or say about yourself."
― David J. Greer, Wind In Your Sails
Automation options in customer service are in demand due to increased efficiency. Organizations today are incorporating chatbots to increase customer engagement and achieve greater customer satisfaction.
Chatbots are made up of intricate code that can be programmed to respond to customer messages. There are different types of business bots being used by companies in different ways. It has been reported that customers prefer messaging rather than calling customer care which has lead to the increased momentum of chatbot use cases in the last few years [2].
Facebook has released data that proves the value of chatbots[3].
2 billion messages are sent between people and businesses monthly

56% of people would rather message than call customer service

53% of people are more likely to shop with businesses they can message
Google trend data shows interest in chatbots has grown as businesses have realized their value.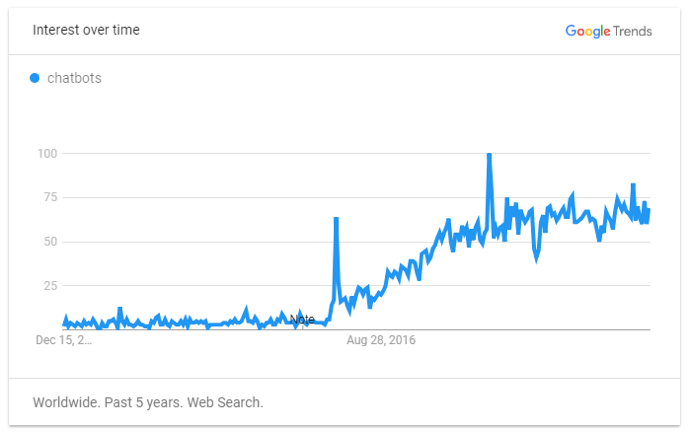 Source – Google Trends
"If you do build a great experience, customers tell each other about that. Word of mouth is very powerful."
– Jeff Bezos (Amazon)
Historical Customer service trends and the direction today:
Customer service continues to evolve each year. initially, there were the toll-free numbers for customer support and it was handled by onshore agents. As technology and connectivity evolved, low-cost options emerged through offshore call centers. Today automation technologies are introduced in various aspects of customer service to make it more efficient. We have technologies for virtual assistants and customer self-service. The goal for customer service will be artificial intelligence based intelligent assistants. Presently, some chatbots are AI and NLP (Natural Language Processing) based that assist in customer service, but still requires some human assistance for complex queries.
So is your business website or apps chatbot enabled? Probably not. Let us try and understand the pain areas of customer service. Once we see that, then we can have a clear view on how chatbots are helping to do away with the customer service pain points.
What does your customer want?
"The first step in exceeding your customer's expectations is to know those expectations."
– Roy H. Williams, Author & founder of the Wizard Academy Institute.
The famed economist, Arthur F. Sheldon said: "He profits most who serves best". That shows the importance of customer service. A Walker study found that by the year 2020, customer experience will overtake price and product as the key brand differentiator[4]. That simply means your customer will go to your competitor if they are not satisfied.
Technology is changing and so is your customer. Customer preferences have evolved. As per the digital marketing trend survey for 2019, customer experience turned out to be the most exciting for the customer. Customers want a great customer service experience across multiple channels.
The customer wants you to be available to support them 24/7. As per the US Customer engagement index, 2016, half of the consumers will take the business to a competitor within a day due to poor customer service[5]. Therefore it becomes imperative that you understand your customer well so that you can provide top-notch service and keep them happy.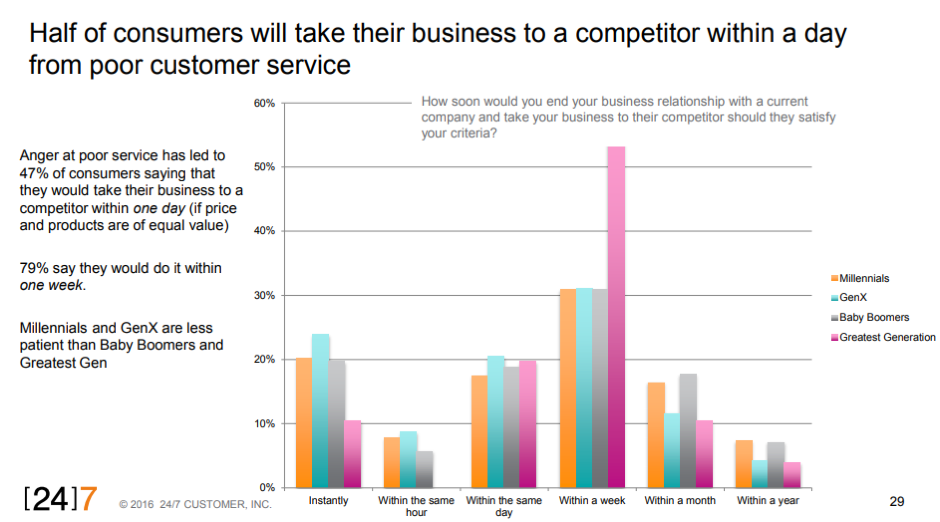 How has your customer changed now?
Today's customers expect a lot more than a few years ago. This is due to the rise in technological innovations. Earlier, the customer used to go to a brick and mortar store to make a purchase. It was a slow process. But today, low-cost internet and connected mobile devices are the norms these days.
Your customer is buying goods and services online. Many times, it's a quick purchase through mobile devices. Quick decision making through e-commerce websites and apps have fueled sales. At the same time, people are also returning and or exchanging goods.
All these put pressure on the customer service teams to answer queries and keep the customer happy. Your customers expect instant responses and quick support. Their line of thought is " If I can buy something in a matter of seconds or cancel an order, I need customer support which will help me in more or less the same pace. I want it now".
In this scenario, you can provide satisfactory service to your customers if you scale up your customer support through automation like using chatbots. Traditional customer support can help to some extent, but it cannot keep pace with the demands of today's customers. You can lose your customers easily to competition. So how do we ensure customer satisfaction? Lets take a look. 
"There is only one boss. The customer. And he can fire everybody in the company from the chairman on down simply by spending his money somewhere else."
– Sam Walton, Founder of Walmart and Sam's Club
What are the customer's common pain areas in customer service?
Let us look at some common issues faced by the customer and see how chatbots can be the best way to provide an efficient solution.
Inaccurate information: Your business may be big or small. Your clients may contact you for any support that they may require. They need assistance and that's the reason they have contacted the customer support team. However, if the customer support team provide incorrect information, your brand image and reputation suffers.
Chatbots are trained to address most basic queries. They can quickly access huge amounts of data and select the right answer in seconds. In case, the bot is not able to answer the customer's queries, the bot can transfer the call or ticket to a human agent. In case of further complexity, the human agent's manager can also help and resolve it. Here we see a 3-step mechanism to resolve a customer's query. The customer will be satisfied that reasonable attempts have been made.
24×7 availability: Your customers are connected on smartphones and may need to contact you anytime. They do not bother if it is day or night or if it is a holiday. If the staff is not available or the customer support team is off due to a public holiday, you will be left with a dissatisfied customer. This unsatisfied customer could turn to a competitor.
Chatbots are software programs and are available on a 24×7 basis that works 365 days a year. With a chatbot, your customers have someone to chat with and address their queries. In the case of complexity, the chatbot can handover the ticket to a human agent who can take it up once he or she is available.
Human agents not listening: Many times your customers may get frustrated as the human customer support agent did not listen properly or asks the customer to repeat the question all over. This can be highly frustrating to your customer.
Chatbots are programmed to identify contextual information and identify the customer's issue through sequential questions. The customer will be satisfied to find a solution in a timely manner.
Instant response: The customer support team comprising of human agents is limited. For example, you may have 10 agents and 15 customers waiting on line for support. Your agent can attend to 10 of them, but the other 5 will be forced to wait for an undetermined amount of time. It may take a while for the human agent to respond. On the other hand, with a chatbot, you can have any number of agents who can address an unlimited number of customers at the same time. An instant response will satisfy your customer rather than waiting for an agent.
Being impolite to a customer: Customers may lose their cool while complaining to customer care agents for any issue. Many times, the human agent may also lose their temper and speak in a rude manner to the customer. This can damage your business's brand.
Chatbots are programmed and will never chat in a rude manner unless you programmed them to. You can assure very polite conversation with the customer, irrespective of customer complaints. Chatbots can empathize with the customer on his problem. The chatbot can transfer it to a human agent when needed.
Transferring calls between agents: Product and service information can be vast based on the specifications or models of the products or services. It may not be possible for one human agent to service a customer call for all the products. It is in these cases that the call is transferred to the respective agent. This will mean waiting time for the customer until the right agent is available.
A chatbot can be trained to support any number of products. Based on the customer query, it will instantly provide support information. There will be no transfer or waiting time.
Supporting multiple languages: If your organization has customers in different countries and geographies, you may need to support them in different languages. It will be cumbersome to maintain different human teams for each language.
A single chatbot can address support queries in any language as configured. This provides cost savings and instant support in the preferred language.
Putting customers on hold: Customers can get frustrated if they are asked to wait while customer support agents get information or discuss the issue. This is minimized while using chatbots as chatbots are trained to access necessary information for speedy resolution of issues. It is only in case of complex queries that the call is passed to a human agent.
Recurring customer queries: Human customer support agents will get bored with attending recurring queries. They could falter and deliver low productivity while addressing this type of queries. Chatbots however, being software programs are energetic and attend the recurring queries with ease and speed. Customers will appreciate the prompt and quick answers. While the human agents can attend to more challenging and value-added tasks.
Lack of knowledge: Customers get really frustrated when they realize that the customer support agents lack the knowledge to help resolve their issue. Chatbots are programmed to be knowledgeable and can access knowledge databases in a second leading to satisfied customers.
We can see that using chatbots can lead to total customer satisfaction. It will help resolve a lot of issues faced by customers in dealing with human customer support agents. Considering how important it is to provide satisfying customer service, Chatbot automation has proven to be a game changer being adopted by organizations worldwide. Chatbots will not replace your customer support. It will supplement and cover human limitations to provide enhanced customer support. It can be adopted by organizations small, medium or large. Check out our list of the best customer service chatbots! In the market for a chatbot or looking for more information? Call us for a demo right away.
Get in touch with Clustaar right away to add the chatbot automation edge.
[1] https://www.forbes.com/sites/shephyken/2018/05/17/businesses-lose-75-billion-due-to-poor-customer-service
[2] https://www.poweredbysearch.com/blog/50-customers-rather-message-call/
[3] https://www.facebook.com/business/products/messenger-for-business
[4] https://www.superoffice.com/blog/customer-experience-statistics/
[5]  https://info.247.ai/rs/074-HBW-141/images/USCustEngagementIndex2016.pdf