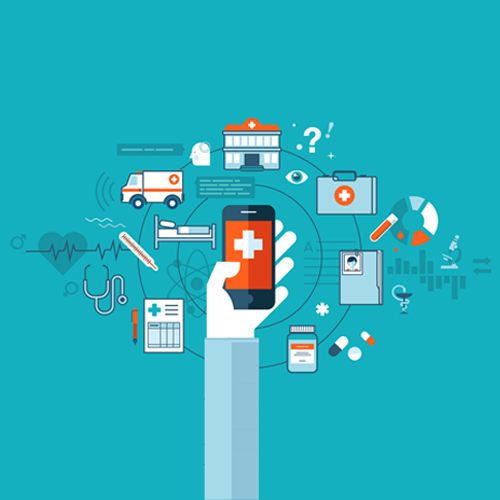 Healthcare providers have been teaming up with chatbots to assist patients and save them money and time. According to Modern Healthcare, the average Emergency Room (ER) visit lasts from 3 hours and for some, up to 6 hours due to waiting times and symptom qualification.
According to Plug and Play Tech Center, Healthtech or digital health uses technology to improve the delivery, payment and or consumption of care. This can range from devices like wearables, procedures, and software, like chatbots. Chatbots continue to add value to a variety of industries. Chatbots in health tech has and will continue to yield positive results. How, you might ask, let's take a look!
FAQ
It has become commonplace for websites to have chatbots on their homepage responding to general queries. Medical establishments such as clinics and hospitals have begun to adopt this as well. Sifting through dense websites have become less daunting with a bot. These FAQ bots answer a variety of questions such as: What are the payment tariffs? How much is covered by my insurance? What is the co-pay? What documents do I need? What are the business hours? This is a one-stop shop to answer general queries in seconds opposed to calling the establishment and navigating their phone tree or sifting through pages on their website.
Appointments
Chatbots linked to scheduling apps like Calendly have been around for quite some time. Companies like Openi, have applied this feature on a wider scale allowing users to schedule doctors appointments. Openi's bot 'Iris' has the ability to schedule and cancel appointments, send follow-up reminders, and receive lab results. With a chatbot designed for medical centers, you can book your appointment in less than a minute. It is just a matter of selecting your doctor and choosing a scheduled time slot. Then insert your personal information and symptoms to brief the doctor on the reason for your visit. This will then be followed up by an email, text or call to confirm your upcoming visit.
Through an integration of your choice, a chatbot may send follow-up messages via email, text or a voice message to remind patients to schedule follow-up appointments. The best thing is the chatbot can deal with many user queries at once without overwhelming staff.
Symptom Checker
Along with general FAQ queries, bots have been deployed to check symptoms for users from the comfort of their home. Chatbots enriched with NLP (Natural Learning Processing) to better understand patient requests regardless of the input variation, is a key factor in the accuracy of this use case. With this knowledge, the bot allows users to access information that will help them narrow down the root of their symptoms. With this data, users can determine if professional treatment is needed or if and what, over-the-counter medications can easily handle the situation.
The proof of this can be seen in Ada, created by doctors, scientists, and engineers to put healthcare at your fingertips. Chatbots like Ada, enriched with NLP & AI (Artificial Intelligence) capabilities, are better equipped to help people determine potential ailments and suggest possible treatments without leaving your home. This is a win-win for both the patient as well as the doctors. Users save time and money when tending to minor ailments that can be treated with over-the-counter medications. Which instead, leaves the doctor's more time to tend to situations that require immediate attention.
Direct Contact
Still not a bot believer? Babylon has created an innovative chatbot that has incorporated all of the features mentioned above such as symptom checker, booking an appointment, answering FAQ's and is able to book a direct consultation with a doctor via video chat, after which they can prescribe medication. This bot is one of the first of it's kind and is only available in the United Kingdom at the moment. But this is a key indicator for the future of bots in healthtech.
Health tracking
For patient's that need medical assistance on a regular basis, a chatbot can be used as a link between doctor and patient. It can provide a detailed record of your tracked health which can help when it comes time to be prescribed medication.
Florence.chat is a personal medical assistant chatbot that has been designed for the person that is under long term medical care. The bot serves as a personal assistant with access to additional information about the inflicted ailment, medication reminders, statistics, health tracking, clinic locations, and an all around go to for your medical needs.
Less than 6-months after her 2017 launch, Florence was consistently handling more than 2,000 interactions on a daily basis. Open rates for chatbot messages is over 98% with email open rates hovering around 20%.
Internal record keeping chatbots are quickly becoming a popular use for tracking patient information. These allow quick access to the patient's prescribed medications, allergies, etc. It has proven to be very useful in emergency situations when the time is of the essence.
Hiring
Large medical firms are constantly hiring and training new employees. With these employees comes an endless supply of paperwork that needs to be filled out and credentials which need to be double checked.
When these facilities have chatbots connected to the companies Intranet, they can be set-up to strictly deal with the Human Resource Departments. New hire employees subscribe to the chatbot and then become integrated into the new hire stream of information about the company and their position.
It doesn't matter if you have a new hire employee's starting today or 6 months from now. They all begin the same flow at the same point. Files that every new hire needs can automatically be sent to them as needed and then verified when submitted to the HR Manager. Automatic reminders can be sent out to only those people that have not submitted their completed forms. Other flows in the same chatbot can be structured to send out exact forms that employees may be requesting. Ex. vacation time, maternity leave, etc. Chatbots can also be set-up to link to relevant information within the organization's HR manual when the employee is wanting to do a bit of research before proceeding any further.
The more tasks your chatbot is designed to automate, the more it needs to be integrated with other third-party software programs. With all of the integrations available, a chatbot can be built that will be able to complete almost any task that you need automated. You can link your chatbot to medical documentation for symptom checker, insurance info, email providers, scheduling apps like Calendly and so much more. Targeted messages can even be sent out to people based on how they interacted with your chatbot.
There is room for growth in the health tech sector and we expect chatbot adoption to continue to rise as more patients seek to reduce wait times and streamline their clinic experiences. Use one of the services we've mentioned in this article to experience the benefits of AI. Don't see the features that you're looking for? Build a bot with all the capabilities mentioned above and then some. These bots can easily be built through a platform or agency. Working with a chatbot agency like Clustaar is optimal because you don't need any coding experience to have a fully functional chatbot. Either way, the choice is yours!