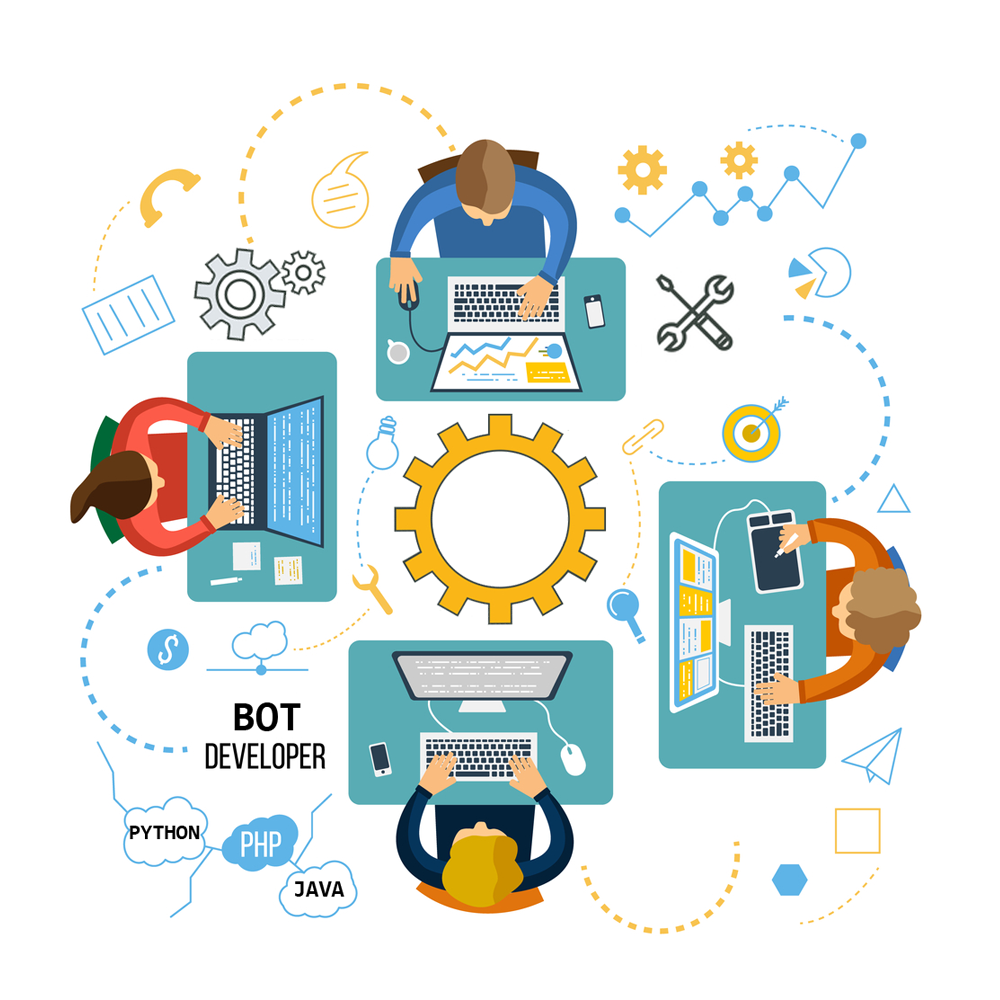 Creating a top-notch chatbot requires analysis, planning and skillful building. The process of bot building can be done alone but many companies opt to use an agency like Clustaar maximize their bots accuracy and success the first time around.
Several objectives and guidelines must be put in place as the base in which the bot will be built upon. When working with a chatbot agency the chatbot project is broken into 4 parts: The bots purpose, personality, content, and communication.
First, the agency will work with you to extract a detailed statement of purpose for your future bot. In this stage usually, in the form of a workshop, we seek to discover why it is you wish to design a bot. What are the goals you wish to achieve with the chatbot and what are the desired results?
For example, our client Lydia, an online payment application, set out to create a chatbot solution to keep up with their exponential growth and reduce the number of tickets for the support team and answer as many queries as possible and it does just that.
Bot Personality and Identity
After establishing the purpose of the bot, the personality and identity mapping begin. The goal is to create a bot that will truly reflect your brand and effectively reach your audience.
What tone of voice will your bot have? Professional or conversational? Will your bot have a sense of humor? Will it use emoji's, gifs or just plain text? The agency will help you to determine just that. Lastly, breathe life into the bot's persona by giving it a name and gender.
Content
The endoskeleton of your chatbot are the stories, steps, and scenarios which will be carefully crafted to match most user queries. Agency's help to create such stories by dedicating a copywriter to the project who analyzes the companies current documentation, and FAQ's to create the framework for the bot to successfully navigate conversations. These stories contain a welcome scenario, a description of the company's key features, FAQ's, additional company data, small talk scenarios, human handoff (if desired) and goodbye intents.
All the features above will create the first version of the bot. This demo version will then go live in the desired location for customers to use and for the bot to collect data on its efficacy for improvements in phase II.
Communication

Once the first version of the bot is live, the project is far from complete. Agencies like Clustaar, monitor the progress of the bot and use the gathered insights to pinpoint areas for improvements, recommend new intents, scenarios, and integrations to create the best possible user experience. 

With an agency, companies have guaranteed maintenance and upkeep of their chatbots long after it is live. Customers grow and change with time around and chatbots should too. Don't go at it alone and choose a chatbot agency to maximize your project's success. Have questions about working with an agency? Would you like to learn about the Clustaar Bot Platform? Not a problem. Book a free demo with our team today. 
Book a demo