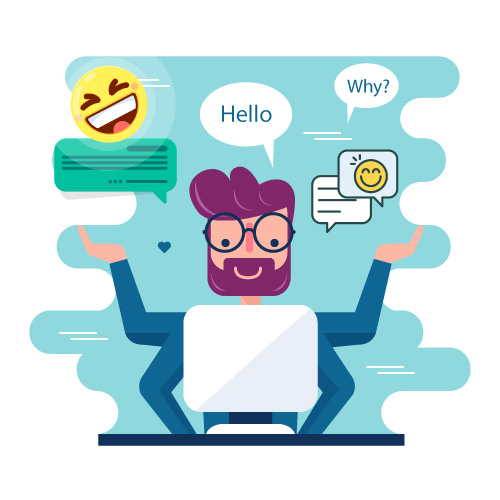 There's a new challenge for online companies: designing effective, fun, and easy to use chatbots. The adoption of this artificial intelligence-powered technology by businesses has been increasing rapidly in recent years; in fact, according to the data from Statista, the revenue generated from the chatbot market worldwide is projected to reach $1.250 billion in 2025, which is a major increase since the 2016's market value of 190.8 million.
The trend is easy to spot but much harder to follow. In the age of Google Assistant and Amazon's Alexa, you cannot surprise customers with a chatbot that is just able to answer simple questions. It has to be much more sophisticated which leads to an increase in costs for development. So you have to clearly understand how you to use a chatbot to benefit your business.
Clearly, the current hype surrounding chatbots won't weaken in the next years because people appreciate the opportunity to exchange messages in real time and receive correct answers without having to wait for a real person to join the chat.
Besides this advantage, there are a number of great potential benefits of using chatbots, according to the customers' survey. They include the following.
Evidently, businesses from all industries can benefit from using chatbots because they have the potential to improve customer service and help lead prospects through the sales funnel.
To take advantage of these great benefits, however, you have to master chatbot copywriting. By enabling your own chatbot to communicate clearly and engage more people, you'll make it a friendly face of your business and keep your target audience interested in communicating with you on a regular basis.
That's why in this article, we're going to focus on six great chatbot copywriting tips that can help you to achieve these goals. Feel free to follow them to create engaging scripts.
1. A Catchy Name and Communication Style
Before writing scripts, you should consider the personality of your bot. It depends on such factors as the personality of your brand, the goal of your bot, and the style of communication you're using to interact with your target audience.
First and foremost, the name of your chatbot. In order for it to be as great and memorable as possible, follow these tips:
Make it sound like a real name. For example, if your business is a traveling website, you shouldn't give your bot a descriptive name like "Everyday Traveling Tips," because, well, that sounds like a name of a website or a blog, but not a chatbot with a fun personality.

If possible, give it a name that's related to its primary goal or the purpose of your business. A great example is Cartoon Quotes Bot which does exactly what its name says: sends the users quotes from cartoons.  

"Make it easy to remember. If possible, use no more than three words for the name, otherwise, it wouldn't be very catchy and easy to remember," Amanda Sparks, a digital marketer and author of the Top Down Writer blog explains.
2. Bring the Users Closer to their Goals by guiding them
Most people who start chatting with your bot will have a specific goal in mind, so you need to define this goal as quickly and efficiently as you can. To do that, chatbots use conversation prompts – options for the user to guide the conversation.
For example, here's how Rewardy chatbot (another example of name suggesting the purpose of the bot) provides the user with options to determine their preferences in receiving rewards from purchases.
First and foremost, the chatbot determines whether the user wants to participate in such projects as trying new apps to redeem points for gift cards. Then, it asks the user to define the store where they would like to get their voucher at, which is another important step in ensuring that the user gets what he or she wants.
So, the takeaway here is clear: begin by greeting the user and then provide them with options that will represent the functions of your chatbot. Chances are high that they'll help the user to reach a satisfactory conclusion.
3. Use Natural Language
"Gone are the days of hard sell and in-your-face advertising, and any experienced copywriter knows that," says Aisha Davidson, an online sales specialist at GetGoodGrade.com. "People are used to communicate with businesses in the way they prefer, which often includes natural, conversational language."
The communication style, of course, depends on your target audience, but in most cases, conversational language is how you should train your chatbot to communicate with the users. For example, here's how MeditateBot does that.
Using simple, conversational language like the one in the example above has several important advantages:
It provides a personal and friendly approach to conversation

It prevents bombarding the user with jargon and other industry-specific words that can be unclear to the users

It makes every exchange as clear as possible.
To ensure a good conversation and make it really easy for the users to chat with your bot, feel free to apply the following copywriting tips:
Greet the user by name

Always speak one-on-one

Every sentence in the script should resemble the style that you'd use to speak to a friend

Use emojis and stickers where appropriate

Send a few text messages at a time instead of one large one to make it easier to digest but limit yourself to three messages to avoid annoying the user

Try to come up with original error messages instead of traditional "Sorry I didn't get that" because they sound so boring and could immediately drive a user away

Write a few variations of the same prompt to make the conversation more interesting

Admit defeat gracefully and ask the user to repeat the request using simpler sentences.
4. Limit the Number of Open-Ended Questions
Open-ended questions are those that require a descriptive answer containing more than one word, so you need to minimize their use by your chatbot.
To make a chatbot as helpful as possible, businesses either go with closed-ended questions – those that can be answered with "yes" or "no" – or provide their own answers and disable the composer for the thread.
For example, Spotify's Messenger bot's users can only choose the options it provides because the composer is disabled.
5. Create a Flowchart of Conversations
One good way to make conversations with your chatbot as easy as possible is to create a flowchart of the dialogues. Just take a pen and a paper or use a flowchart app and do it. It'll provide you with a much-needed overview of all possible directions a conversation can go, so you can prepare better questions and answers.
Also, this will demonstrate how important it is to cover more than one scenario because every answer option you provide to the user leads to another part of the chart. That part should be treated as a unique conversation.
6. Keep Updating the Script
There are many reasons to keep your chatbot script updated on a regular basis, including:
The needs of users may change

Your business adds new features, products, and services

The users wouldn't want to have the same conversation again and again

You may want to adjust the copy of the script to include holidays
One Last Thing
Chatbots are getting increasingly popular among online businesses, so having one is a must. To succeed, your customers' experience with a chatbot should be as smooth as possible, and writing is the part that makes this happen. The scripts you'll use, of course, largely depend on the industry/niche you're in, but the tips described in this article work for most businesses.
The last thing that you should know at this point is to test different versions of scripts and see which ones perform best. This way, you'll increase the chances of having more satisfied users, which means a higher ROI for your chatbot!